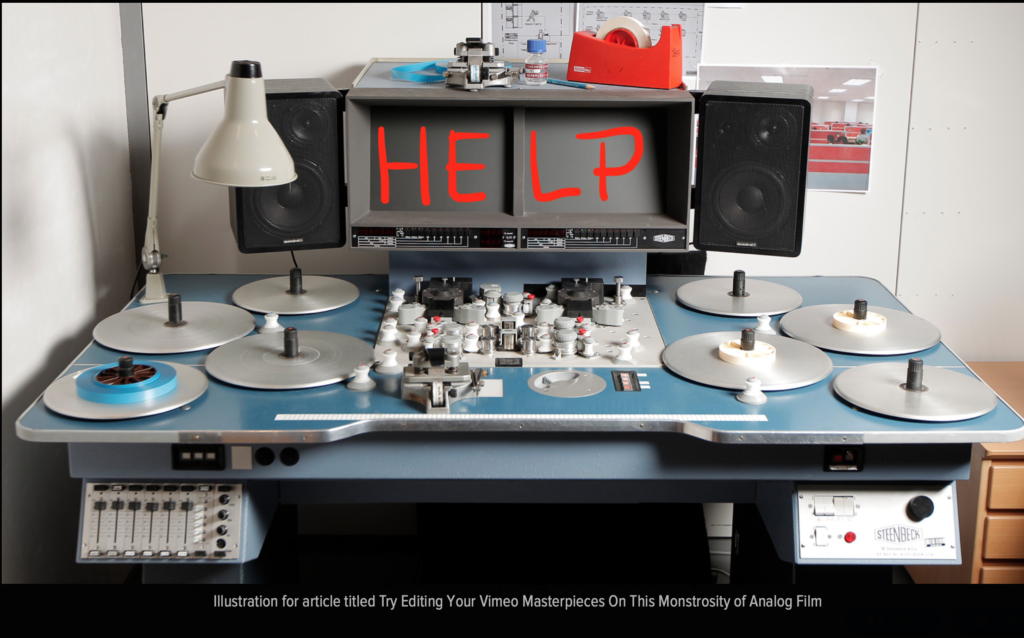 And now a positive note on technology…
We were cutting a reel for a friend and needed a slug of black between shots. BASIC. I don't edit every day and forgot some of the shortcuts, not to mention what's in the hundred drop down menu options and tweaks.
Oh where oh where is a simple slug of black? Help was no help. It could not be found by poking around the program. After scanning through a couple articles and a tutorial it was revealed to be "black video." What should've taken 2 seconds took 20 momentum-breaking minutes!
I grumble, then must remember this is a slight inconvenience. Let's saunter down memory lane. Cutting a film used to literally be cutting the film – first a work print – like practice – then cutting up the negative (no going back here) to match it – the commitment. Negative cutting, or conforming, is a whole nother specialized process.
Editing was on a flatbed, a big mechanical desk with 'monitors' that projected the film frames (like microfishe), with speakers playing the sound from the magnetic audio tape. Motors kept picture and sound tracks in synch as they ran reel to reel, lying flat on platters – think of a DJ with 6 to 8 turntables.
BTW using a fantasy name generator, my DJ names are: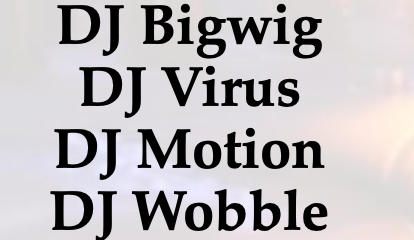 There were maybe 3 buttons, and a lever for playback. Cut and tape with a splicer. Any effects like fades and dissolves were imagined, and notated on the actual film to mark where to add the effects into the negative cut. You didn't see your Fade Up until the cut negative was processed at the lab!
Twas a rare luxury for Independents to cut the negative, make a final print, then recut the negative again. All time and money, Baby, so editing decisions were perhaps taken more seriously back then than today. And perhaps because of the abundance of digital footage and choices for todays Editors, the wise ones utilize the blessing of the Script Supervisor's notes more than ever, finding it faster to scan through a few pages of detailed notes than a few hours of shots. Everyday.
But I digress.
There was an awkward technology gap for a while. Flatbeds were phased out as film was lumpily forging its digital path, different from typical video. "Ooo now's my chance," thought this Silly Rabbit, and heard of a rumored unit for sale in town.
I contacted Steve – Hoop Dreams – James, who decided he was too sentimentally attached to his Steenbeck, but graciously invited me to HQ to edit my short film on it. He brought me to the flatbed's dedicated room. It was covered in potted plants! Did I dream this part? We moved the greenery and removed the fitted plastic cover. I began to edit.
And within an hour it froze up. Steve couldn't figure out why, and to fix it he'd have to wait for the one guy in the country, James Bond, I kid you not, to make his annual repair rounds to the Midwest.
I then moved away to a town which decades ago declared "film is dead." And did not finish that short. Woe? No! For it caused me to look at writing more seriously, and stretch from experimental short films to feature length screenplays.
And now technology has become accessible, so that we can shoot and edit in the same day, have several projects in the works at once, can store hundreds of hours of footage, play forever with effects, correct many sound and video issues, pull still shots instantly, and let others around the globe view our progress, all with a few keystrokes. On my teeny laptop, sitting on an end table.
There are still final final steps for "prints" like Blu Ray or DCP, but a whole world has opened up literally at the touch of a few buttons.
Use your power for good, technology! And you dear reader? What's your Dj name?