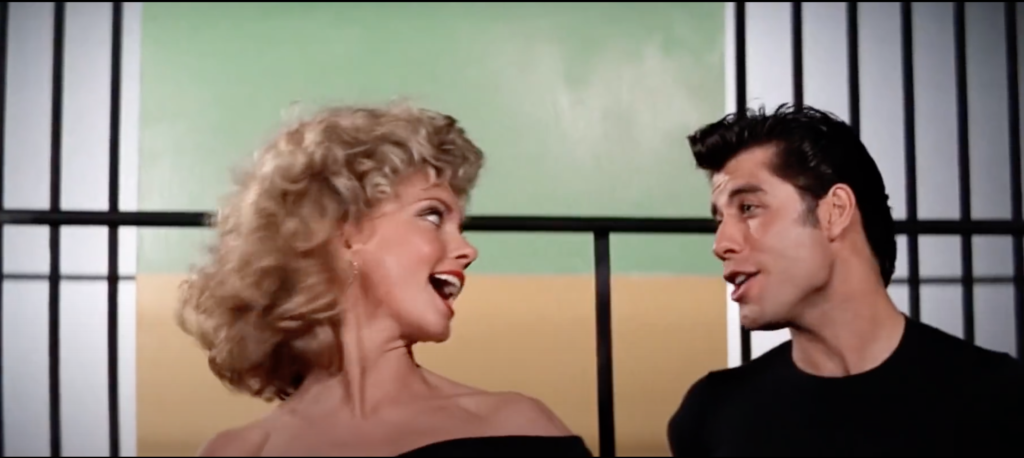 My parents didn't take us to the movies as much as I would've liked, but a couple of those early screenings have stuck with me as filmic comfort food.  After the daily stress of the world on hold and nightly chores on the farm, 2020 has been the year of classic cinema. Not meaning highbrow, just old!
Grease is the word! Or it was last night, streaming into our living room.  Way back, when movies stayed in the theater for months, I did get to see this film projected a couple times.  That year a friend and I danced and sang our little girl heads off to the soundtrack. And when it later came out on VHS, and when my family eventually (better late than never) got a VCR, teenage me maybe might've rented it once, or twice, until someone down the road gave me a tape of my own. Never got around to a DVD copy.
So my hub and I watched, in HD on a decent sized flat screen. And during the climactic final duet, some childhood cinematic memory urged, "was I right?" There was something that I remembered feeling off about that part of the song where Sandy and Danny move their way up the zig zaggy stairs of a carnival attraction.
And there it was. The close ups didn't match in continuity, the backdrop didn't quite match, and were (now quite obviously) filmed on stage. I felt that as a kid!  But I've seen this on tape several times since then, and thus knew this already no? No. Poking around versions of the scene on Youtube it became clear. After seeing it in the 1970's theater, the other viewings were on a squarish TV, the image severely cropped (unless there's a letterbox version out there), with the softer focus and drained color saturation of a film on tape.
Good grief, who knew then that seemingly useless observational sense would apply to decades of work as a script supervisor!
As an aside, in mentioning this to a friend, she brings up the cringiness of some of the sexist dialogue and lyrics in my beloved Grease. Well, I look at it as a film about the 50's made during the 70's. Context people! BTW what kind of example are today's big name musical artists promoting? I will take my hand jive and pussy wagon all day long over a degraded twerking Cardi B or Miley Cyrus.