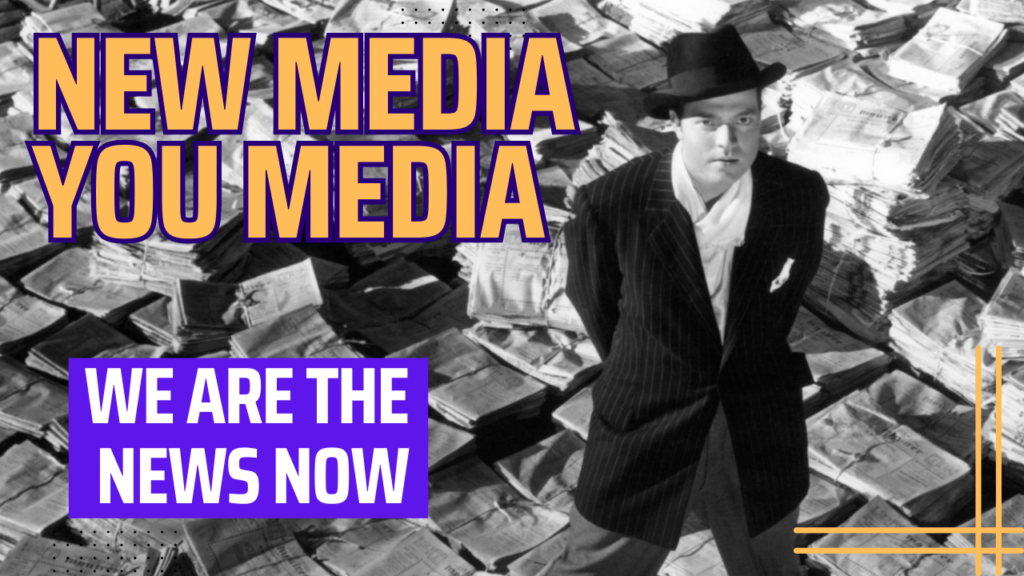 (Written for a local paper July 2022)
This phrase has circled social media for several years as independent journalists and regular palookas share research and observations in the digital town square, picking up the slack from the polluted Main Stream. It's best to keep vigilant, to discern and verify sources, for "it's true, I seen it on TV" has become "I saw it on the internet!"
By the way, did you know the word gullible is not in the dictionary?
But the upside of maneuvering wisely through this flood of voices is less technocratic censorship and control. If a big platform stomps a story down, it can reappear in a hundred other places, as vlogs, blogs, websites, podcasts, research boards, specialty forums, newsletters and person-to-person text or email.
Like him or not, an important accomplishment of President Trump was breaking the spell of what he calls Fake News. Fake News, where Media Conglomerates, beholden to their billionaire owners or corporate sponsors, beholden to what will make money for them, to what will promote their ideology, or politics, dictate down the pyramid to supposedly local television, radio stations and newspapers, what the stories or angles are to be, often regardless of how vetted or true. Mockingbird Media. Remember the video showing Sinclair News subsidiaries, local newscasts from across the country, reading the same script, verbatim?
Hence the local news may not really represent the community it is supposed to serve, and may instead be working to inorganically nudge that community in an unnatural direction. "Eat ze bugs!"
At one time journalism was considered the Fourth Estate, the guardian to help keep the checks and balances of our government checked and balanced. But what if that watchdog has become a lapdog, trained to fetch Master's slippers for the hopes of a belly rub or a bone?
How potent is the power of the press? The Office of the Historian provides an example of its effect on diplomacy and public opinion, leading to war and an expansion of the United State's foreign reach. Basically, used as a device to sell more papers in the late 19th century, a strategy of sensationalized, rumor-based reporting vs. factual reporting, yellow journalism created a hot button of anti-Spanish sentiment in the Cuban struggle for independence, and helped pave the path to the Spanish-American War.
Fake News is not new, just expanded, monopolized and now congressionally sanctioned.
Once called the Broadcasting Board of Governors, the U.S. Agency for Global Media states that it "and the media organizations that it supports can now make their content available in broadcast quality upon request within the United States. This is due to a law that went into effect on July 2, 2013, amending the U.S. Information and Educational Exchange Act of 1948, known as the Smith-Mundt Act."
The Smith-Mundt Modernization Act of 2012 was tucked into the National Defense Authorization Act (NDAA) in 2013, section 1078. If I am reading this whole bill come amendment correctly, it provides that "information" (propaganda?) prepared for distribution in foreign countries (think Voice of America) to spread democracy (how's that going?) can now be distributed domestically to the American people.
Perhaps the initial intention was lovely, but could the use of this Act be weaponized to mislead, control or twist a narrative, and thus the public? In such a short period of time our country seems irreparably divided in a dozen ways. By design? By distraction, to subvert attention away from those in "power" as they feed off most of the life on earth?
The USAGM's arrangement for "Global connectivity" seems like a handy tool for promoting global lockstep lockdowns and global pandemic procedures, or bureaucratically created global energy and global food shortages. "We're all in this together…."
Oh boy we live in interesting times! And if not satisfied with corporate newscasts, magazine and paper subscriptions, we now have the option at our fingertips to instead research for ourselves; to read, listen or subscribe to more direct and less biased sources of information.
So "we are the news now" does not refer to this specific grassroots publication per se, but to we the people, sharing what we consider pertinent findings with our friends, families and groups in a bigger way, allowing space to ask questions, challenge mainstream narratives, and dare, with due diligence and verification, to discover the truth.
Some interesting fictionalized film examples of political media manipulation:
Frank Capra's Meet John Doe
Orson Welles Citizen Kane
Barry Levinson's Wag the Dog
Sources:
https://history.state.gov/milestones/1866-1898/yellow-journalism
https://www.congress.gov/bill/112th-congress/house-bill/5736
https://www.congress.gov/bill/112th-congress/house-bill/4310/text