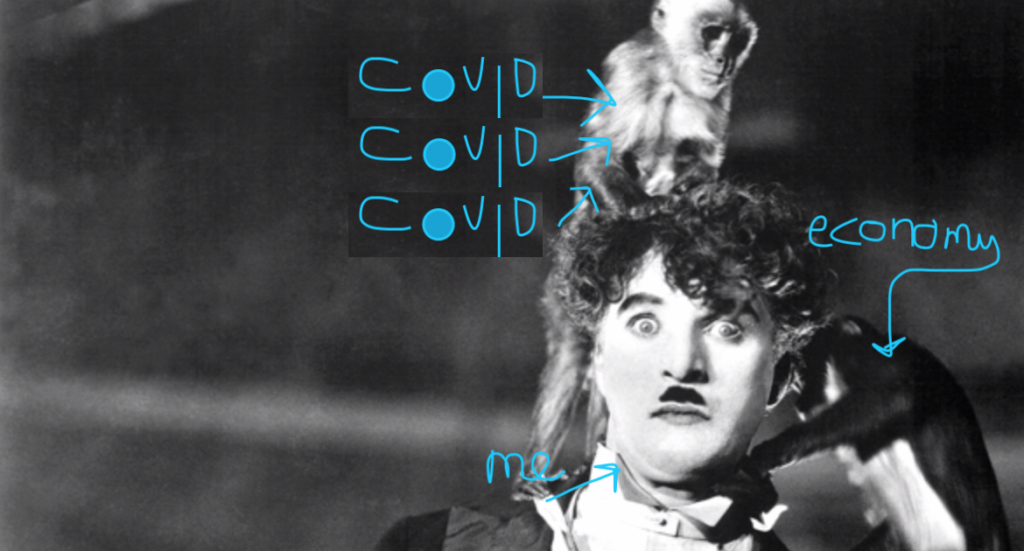 The tension of not knowing what the film production future will look like, as in jobs, as in when, as in being decades invested in such a niche industry, and the thought of trying to make a living at something available and new, deep into middle age, finally got to us. Fighting over planting the green beans. At one point the words "breaking up" were uttered, and not by me.
That night I did not want to hear another word, no syllable nor peep, and stumbled upon a silent film from 1928, Charlie Chaplin's The Circus. CC can be a little syrupy for my taste, but after reading that he had pulled this movie out of circulation for nearly 50 years, rereleasing it in 1969 (to an audience both sophisticated enough to appreciate a master in film history, and perhaps exhausted from the hippy beads of culture shock confusion mixed with a deepening march of war), I hit play.
In an exaggerated way the Tramp lives out our primal fears – homeless, jobless, alone and hungry. But he holds his head up. Given a chance to work at the circus, stumbling through various jobs and actual circus acts, one could cynically say he is taken advantage of, used, and placed in danger.
But it doesn't actually feel this way to watch. Despite his misadventures the Tramp can love, share, protect and sacrifice, maintain more dignity and grace than those who have a flush wallet and a full belly. And now, here on Earth 2020, our circumstance may change but it needn't change who we are. It can't.  What makes us "us" are internal qualities, not possessions or positions, no matter how entrenched we seem to have become with such. In trying times we see what we are made of.
By the film's climax my husband and I were laughing out loud, tears running down my face (and I am a hard nut to crack), as the Tramp fills in for the Tightrope walker. I wont describe it for hoping someone here will actually watch the WHOLE film, but lets say its an allegory for how some of us may feel a this time – safety line snapped, a monkey on our back, being out of balance, caught with our pants down. Tears of laughter are better than tears of fears.