Filming on Location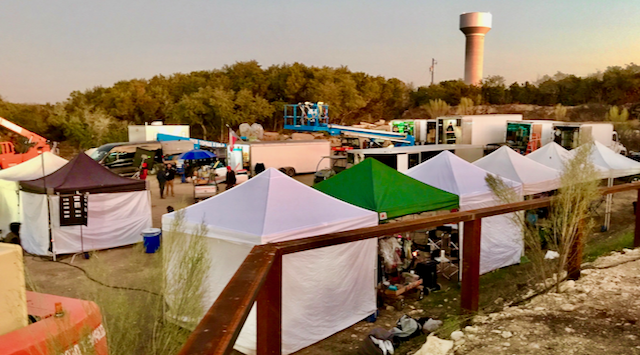 I spent last week in the big city working on a commercial and crossed another production while driving to my set one day. It's kind of funny to see the (literal) signs of filming on location that thousands of people are oblivious to.
First there's the yellow placard at the street corner, rather inconspicuous, telling those in the know to turn "here." This will never display the show's title, but perhaps the initials or the production company's name.
Sometimes everything's clustered together and sometimes parking, basecamp, work trucks and location are spread apart. In some ordered combination are the white box trucks, lined up just so, and trailers, with a parade of passenger vans making the rounds. A bank of crew cars may display matching parking passes tucked on their dashboards.
Closer to set may be large equipment as lifts or cranes, as well as an array of pop up tents and carts, metal stands and big black or white sheets. Lights and cameras are the big giveaway. Some passers by may be accustomed to the scene, " oh another movie," some intrigued, " oo what are you filming?" and some annoyed, "BEEEEEEEEEEEEEEEEEEEEEEP!"
This can be home for weeks or just a couple of hours, when the AD proclaims, "We're done here, company moves!"
And in a slow motion blink of an eye, hundreds of people, gear, equipment, vehicles and all – POOF – are gone, with the cinematic caravan on to the next location.
Is there a movie or TV show filming near you?